Meet Your Mistress: Erotic Femdom Hypnotist ~ Mistress Carol ~
Thank you for visiting Erotic Hypnosis For Men, the home of one of the internet's finest and sexiest Erotic Femdom Hypnotist, Mistress Carol.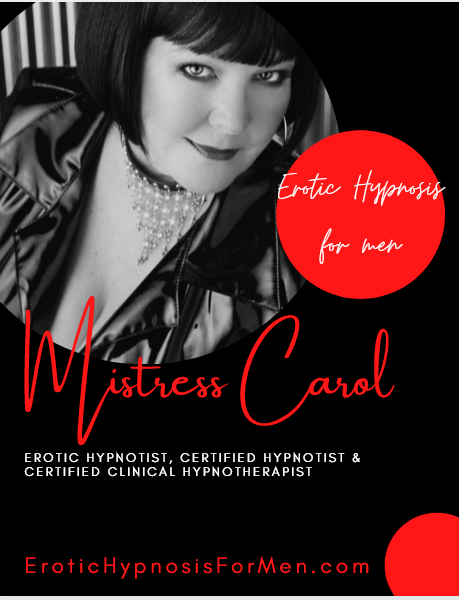 Mistress Carol is a Dominatrix, Erotic Hypnotist, and Clinical Hypnotherapist at EroticHypnosisForMen.com. She is an expert in controlling your mind and taking you deep into the sensual experience of hypnotic trance and fantasy.  Her sessions have been celebrated as some of the best in the industry, with her provocative and controlling voice that welcomes one to surrender into hypnotic submission.
With an intellectual interest in psychology and the mysteries of the subconscious mind, Mistress Carol has been practicing hypnosis and creating erotic trance sessions for over ten years. As a sensualist, she takes pleasure in creating a dream-like environment where one may be immersed in fantasy, lost inside her control, sexually dominated, as she blows your mind.  She thrives on pain and pleasure, domination and submission, control and surrender, and passion and desire. With a bit of a mischievous streak and a playful manner, Mistress Carol enjoys the dynamics of tease and denial, taking you to the edge of agony and lust, then leaving you aching for more.
Professionally, Mistress Carol is a clinical hypnotherapist and works within the community, supporting individuals with overcoming issues and habits so they may create their best lives.  She has helped many to overcome anxiety, stop smoking, lose weight, and conquer their own personal limitations.
Mistress Carol is the creatrix of Erotic Hypnosis for Men, a lair of wicked enchantment and depravity, which features a captivating variety of recorded erotic hypnosis sessions available for online purchase. Mistress Carol also offers live online sessions for one-on-one trance experiences and distance training on many sexually inspiring topics. You may also find her older, discounted sessions at My Hypnotic Domains, or visit her at LoyalFans.com/MistressCarol where you can enjoy her subscribers-only VIP content.
Please take your time and browse through this extensive library of sessions and if you have any questions, visit the FAQ page or submit respectful inquiries to Mistress Carol.
Enjoy Erotic Femdom Hypnotist Mistress Carol's Online Femdom Domination Training below, an extremely powerful, exhilarating, and arousing experience. Online training can be as equally effective as physical training. Whether you are interested in hypnosis-related instructions or BDSM tasks that interest her, being commanded to complete undertakings for her satisfies your need to submit and please Mistress Carol, and is an erotic experience you both enjoy. Mistress Carol takes your interests and turns them into delightful tasks that you will obediently complete for Mistress.
Are you curious? Start with the Basic Package and find out just how pleasurable and exciting it is to be under Mistress Carol's control and following her instructions. Click link below to find out more…
Introducing… The Heart of the Dominatrix
Mistress Carol is featured in the new Femdom coffee table book: "The Heart of the Dominatrix: Portraits and Interviews of Exceptional Mistresses". The new release of this book written by Inanna Justice features 21 professional Dommes from six continents.  The Heart of the Dominatrix offers a glimpse into female domination from their point of view, complete with stunning pictures and interviews. From pony play to medical fetishism, erotic hypnosis to domestic discipline, each of these women has a reputation for excelling in her field. Take a deep dive into their worlds and learn more about the mysterious realm of female domination and BDSM.
Read all about what goes on inside the erotic MIND of Mistress Carol and see her in sensual erotic photo shoots like you have never seen her before! Plus! 20 other exotic Mistresses to drool over. Get Yours Today!
Buy one for yourself. Buy one for your Mistress. Buy one for a friend.
+++
Mistress Carol is available for expert quotes in articles, books, e-books, as well as interview requests on podcasts, in web publications, magazine articles, videos and more. Mistress Carol's areas of expertise include: Erotic Hypnosis, Femdom Hypnosis, Sexual Arousal Hypnosis, Erotic Mind Control, Deep Hypnotic Trance, Hypnotic Erotica, Hypnotic Orgasm, and Hypno Fetish.
If you would like to contact her for an interview or quote, please email her at Info@EroticHypnosisforMen.com.
You can download her Media Kit here.