Meet Your Mistress: Erotic Hypnotist
Thank you for visiting Erotic Hypnosis For Men, the home of one of the internet's finest and sexiest erotic hypnotist, Mistress Carol.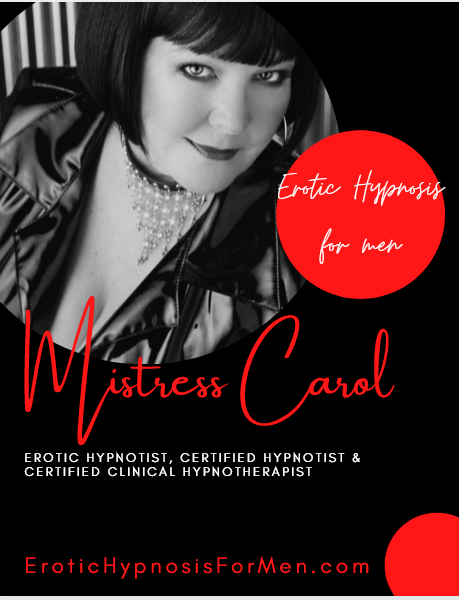 Mistress Carol is a Dominatrix, Erotic Hypnotist, and Clinical Hypnotherapist… an expert in controlling your mind and taking you deep into the sexy experience of hypnotic trance and fantasy.  Her sessions have been termed some of the best in the industry by many and her sexy controlling voice will allow you to let go and enjoy the deep surrender of hypnotic submission.
Mistress Carol is a sensualist and she enjoys taking you to a sexy place in her sessions, whether that is deeply lost inside her control, sexually dominating you, or providing you with a fantasy that will blow your mind.  She loves pleasure, passion, sex, fun, control, and domination, and not necessarily in that order.  Enjoy her live erotic hypnosis online and Femdom domination, or submit to her imaginative and creative recorded masterpieces.
Erotic Hypnosis For Men has a large variety of recorded erotic hypnosis sessions available for purchase, live Skype sessions for one-on-one trance experiences with Mistress Carol, and Online Domination. Please take your time and browse through this extensive library of sessions and if you have any questions, visit the FAQ page or submit respectful inquiries to Mistress Carol.
Enjoy Mistress Carol's Online Femdom Domination Training below, an extremely powerful, exhilarating, and arousing experience. Online training can be as equally effective as physical training. Whether you are interested in hypnosis-related instructions or BDSM tasks that interest her, being commanded to complete undertakings for her satisfies your need to submit and please Mistress Carol, and is an erotic experience you both enjoy. Mistress Carol takes your interests and turns them into delightful tasks that you will obediently complete for Mistress. Are you curious? Start with the Basic Package and find out just how pleasurable and exciting it is to be under Mistress Carol's control and following her instructions. Click link below to find out more…
+++
Mistress Carol is available for expert quotes in articles, books, e-books, as well as interview requests on podcasts, in web publications, magazine articles, videos and more. Mistress Carol's areas of expertise include: Erotic Hypnosis, Femdom Hypnosis, Sexual Arousal Hypnosis, Erotic Mind Control, Deep Hypnotic Trance, Hypnotic Erotica, Hypnotic Orgasm, and Hypno Fetish.
If you would like to contact her for an interview or quote, please email her at MistressCarol@MyHypnoticDomain.com
You can download her Media Kit here.